How stupid companies treat customers
Baseline Magazine did a great job of turning some of our key messages from the book into a web-based slide show.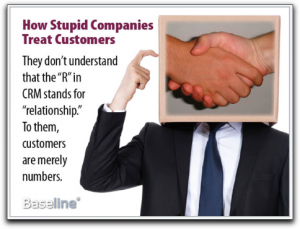 Take, for example, their #5 slide, shown at left.
I've been extremely disappointed to see many companies use CRM as an opportunity to automate old marketing strategies, instead of launching more effective new strategies.
I once helped conduct a study of CRM that was sponsored by CFO Magazine. We learned that the number one indicator of CRM success was whether a particular CRM initiative had specific benefits to customers.
This may sound obvious, but it turns out that financial executives concluded most CRM initiatives have zero benefits for customers. Those that do, succeed. Those that don't, fail.
It really is that simple.