200 times more accurate than Kinect?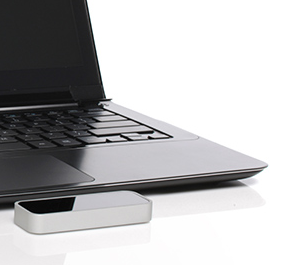 Leap Motion, a San Francisco startup, just pre-announced its 3D motion control system. It sits on your desk or counter or table (in the photo, it's that little thing in front of the laptop) and allows you to control your computer with your hands. No keyboard or mouse needed.
They say it is 200 times more accurate than anything else on the market, which means Microsoft's Kinect for Xbox 360. It seems to detect tiny motions made by the tips of your fingers, which would allow you to write, draw or paint in thin air – or to highlight very small sections of a page.
And thus the race to reinvent the world begins.
Put one of these in a store, and customers no longer need to touch the same surface as 400 people before them.
In the same way that toddlers often figure out how to use the iPad immediately, using your hands to control a digital device can become utterly intuitive.
If you like something, touch it, grab it, pull it, or slide it into a bucket. Don't like something? Swat it away.
The device will cost $70 and should be available "early next year." You can pre-order one now.
Leap is looking for developers.
Nuff said.