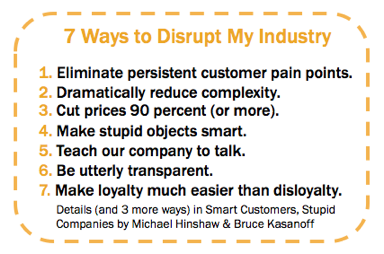 Thousands of readers have shared our book excerpt at FastCompany, 7 Ways to Disrupt Your Industry. So we decided to make life easy for you and create this handy wallet card.
Can a wallet card really be disruptive, you ask? Good question.
Anything that keeps you focused on building services for smart customers is disruptive. If it helps to have something to pull out and look at a few dozen times a week, so be it.
If you really want to build something big and profitable, we explain ten – count 'em , ten – disruptive ideas in Smart Customers, Stupid Companies
.