Apple's friendly assistant was born on the battlefield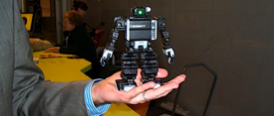 As you probably know, Apple bought Siri, they did not develop the personal assistant in-house. According to Wade Roush, the algorithms that make the (original) app work… are the product of years of defense-sponsored research at Menlo Park, CA-based SRI International.
In other words, Siri has its roots as a military application, not a consumer one. Over the next few years, we are likely to see hundreds of consumer and business applications that result from technologies used in Iraq and Afghanistan.
Dr. P. W. Singer's remarkable book, Wired for War, highlights how technology is changing warfare. I despise wars, but read the book when originally published with the recognition that the military drives many innovations, and many of these end up powering commercial applications.
This passage from the book shows how technology even ends up blending warriors into society, creating a stunningly narrow line between war and everyday life:
One of the most familiar unmanned aerial vehicles (UAVs) is the Predator. At 27 feet in length, the -propeller-powered drone is just a bit smaller than a Cessna plane. Perhaps its most useful feature is that it can spend up to 24 hours in the air, at heights up to 26,000 feet. Predators are flown by what are called "reach-back" or "remote-split" operations. While the drone flies out of bases in the war zone, the human pilot and sensor operator are 7,500 miles away, flying the planes via satellite from a set of converted single-wide trailers located mostly at Nellis and Creech Air Force bases in Nevada. Such operations have created the novel situation of pilots experiencing the psychological disconnect of being "at war" while still dealing with the pressures of home. In the words of one Predator pilot, "You see Americans killed in front of your eyes and then have to go to a PTA meeting." Says another, "You are going to war for 12 hours, shooting weapons at targets, directing kills on enemy combatants, and then you get in the car, drive home, and within 20 minutes you are sitting at the dinner table talking to your kids about their homework."
This passage troubles me to no end. I give a lot of speeches, and a few times have brought family members along to a particularly appealing venue. It was almost impossible to concentrate appropriately on either my family or speaking obligations, and I stopped that practice. I can't imagine why it makes sense to allow drone pilots to live with their families while they are at war.
But technology breaks down walls. (What time do you stop working? Your spouse and kids might dispute your answer, given how often you text or check email.) Since we've poured billions of dollars into developing new technologies to support our troops, these technologies will come home along with our soldiers.
In these wars, American forces have used a broad assortment of drones and robots. Devices that many executives still consider to be "science fiction" have been used for years on the battlefield under far worse conditions than the average shopping mall, one of the many places they are likely to end up next.